How to Reduce Belly Fat Non-Surgical Way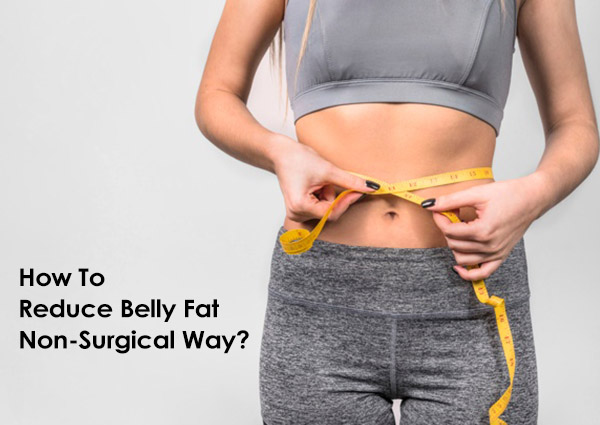 How to Reduce Belly Fat Non-Surgical Way
In the following article we'll mention a crucial topic that's "How to Reduce Belly Fat Non-Surgical Way?" let's discuss in the article given below:
If you're one of those people who want to lose belly fat for good but have not been able to do so, you are not alone. We frequently promise ourselves to start exercising soon but that soon takes a long time to arrive or doesn't arrive at all. If that time hasn't arrived for you yet, it is time to be serious and reduce the belly fat. Successfully flattening your stomach is a matter of burning body fat and building muscle but it is no easy task. The stomach tends to hold on to fat a little tighter, especially as we get older. If you're struggling to get rid of lingering belly fat, here are some of the best non-surgical fat removal treatments you can look in to.
Benefits Of Non-Invasive Fat Reduction Treatments
Since the use of various technologies such as the fillers and laser for aesthetic enhancements, the market has been seeing an explosion of non-invasive treatment options for fat reduction. These have given people a wider range of choices and effective solutions to deal with their body and skin concerns without submitting to the surgeon's measures. The various non-invasive treatments for belly fat reduction seems to offer several benefits to the patients. If you are interested in getting them done, learn about the benefits in detail below.
No incisions: The main advantage of non-invasive treatments is the size of the incisions. In the traditional fat reduction treatments, the cuts are large but non-invasive treatments have no incisions.
Little or no pain: The non-surgical fat reduction procedures cause less pain and discomfort after your procedure. Studies have shown that patients who are recovering have less pain and don't need large doses of pain relievers required by patients who have undergone conventional surgery.
No lifestyle changes: You don't have to make any major lifestyle changes to see results. If you have a busy lifestyle with a tight schedule, these procedures help you easily lose inches. Furthermore, you also don't need any help to walk in and out of these procedures. There's no recovery time needed, so you can go right back to work.
Long-term results: The results of these fat reduction treatments stay for long. They freeze the fat for longer periods without incisions. Once fat cells are removed, your body won't create new fat cells there again. Your treated areas will continue to slim down over the following months to make your results look completely natural. The results will stay as long as you maintain a healthy diet and exercise regularly.
Fast recovery: Since there are no cuts or incisions, it enables you to heal faster than traditional open surgery techniques. These fat freezing procedures allow you to get back to your normal daily life immediately. Furthermore, these treatments do not cause any scarring.
Best Treatments For Non-Surgical Fat Removal From The Stomach
Over a few years, the beauty market has been continuously shifting from invasive procedures to non-invasive treatments. There are currently four non-invasive techniques for cellulite reduction or fat reduction as we call it: low-level laser therapy, cryolipolysis, radiofrequency, and high-intensity focused ultrasound. TAF Wellness, a leading wellness center in Delhi offers the following non-invasive treatments for removing that extra fat from your stomach. Have a look!
CoolSculpting: Coolsculpting is an FDA-approved non-surgical body contouring treatment where a device is used to freeze the fat under the skin. Once the fat cells have actually been destroyed, they are gradually broken down and thus removed from the body. There are several benefits of CoolSculpting listed below:
Fat cells are destroyed and removed from the body permanently giving long-lasting results
Low-risk or no risk procedure for most people.
No infection or scarring since the skin barrier is not broken avoiding most of the complications.
No recovery time and can resume daily activities immediately.
Results look natural, as they develop gradually in the weeks following the treatment.
Help people who have lost weight but still have stubborn pockets of fat in particular areas
Low or no risk of skin dimpling or bumps because fat cells are destroyed evenly across the patch of the skin
Alma Accent Prime: Alma Accent Prime combines both ultrasound and radio frequency(RF) technologies to destroy and manually remove fat from the body for long-lasting shaping results. The RF is actually used to produce thermal deep heating to the issue, resulting in much more concentrated energy. This reduces treatment time and number of sessions. Alma Accent Prime is a great solution for dealing with fatty tissue and willow skin on thighs, stomach, arms, and other areas. Here are some benefits of the fat reduction treatment that are sure to make you smile.
Combined technologies and treatment options can give faster, longer-lasting results with a lesser number of treatment sessions.
Clinically proven in extensive studies
Comfortable as the gradual heating and an integrated cooling system prevents pain
Selective as the treatment is focused at multiple depths giving larger treatment control and better results leaving the surrounding areas completely unharmed
Safe and effective for all skin types as well as for thin and delicate areas such as the face, neck, and more.
No downtime or recovery period and the patients can return to their normal activities immediately after the treatment
Trilipo Maximus: If you are looking for a non-surgical fat removal from the stomach that shows an immediate reduction, Trilipo Maximus is a great option. It uses a radio frequency-based technology along with a unique Dynamic Muscle Activation technology to target all four layers of skin for body contouring and skin tightening, giving your body a perfect shape. The focused energy causes a contraction of the collagen fibres leading to an immediate tightening effect. The thermal energy liquifies the fat and eliminates it through the lymphatic drainage system. The several benefits of this treatment are visible reduction of fine lines, firmer skin and body reshaping. Some of the other advantages of the fat reduction treatment are:
It is a safe, painless, and non-invasive fat removal treatment
Quick treatment that can be done in less than an hour
The treatment has been considered suitable for all skin types, condition, and races
It produces visible results for anti-aging, skin appearance and contouring
It is a clinically proven treatment designed by medical experts in the skincare field
U-Lipo: U-lipo is one of the most effective and powerful treatments for non-surgical fat removal from the stomach. It is an alternative to surgical liposuction to reduce unwanted fat from the body and achieve circumference reduction. U-Lipo is suitable for both men as well as women of all age groups. A combination of ultrasound and radiofrequency with vacuum suction, it is a powerful, safe, and painless slimming treatment showing immediate results after every appointment. U-Lipo is free from side effects such as skin infections and bleeding. Look at some of the benefits of this treatment:
It is an extremely effective non-surgical fat reduction treatment where the results can be seen immediately after each treatment.
It offers targeted fat reduction in individual body areas due to its high-precision low-frequency ultrasound. This is a big advantage over the general diet and exercise which can reduce overall body fat, but not reshape individual areas.
It is relatively priced less as compared to other surgical methods of fat reduction from the stomach and other parts of the body
It is safe and painless. It is actually a lunch hour procedure & Clients can actually do all normal everyday activities after treatment.
It is a convenient treatment for people who want to be fit, healthy & in shape, but are short of time.
List Of Exercises To Burn Your Belly Fat Fast
The best way to burn body fat is through cardio exercises such as running, walking, and bicycling. With the exercises listed below, burning stomach fat and shedding of the love handles does not seem like an impossible task.
Regular crunch: The best way to tackle that little extra fat around the tummy, without any doubt, is doing crunches. Experts say that it occupies the highest or top rank among the fat-burning exercises and you need to include these in your set of exercises.
Vertical leg crunch: The normal crunches have several modifications and variations, all of which help in specifically designed to reduce belly fat. Vertical leg crunch is actually quite similar to a normal regular crunch however it actually requires you to keep your legs straight, which further makes the abs work harder as well as increases the workout's intensity.
Exercise ball crunch: This exercise needs an exercise ball and a lot of stabilization which engages more muscles. It is a popular gym exercise targeting the abdominals. Unlike crunches on the floor or a bench, by actually using a ball, you'll be able to increase the range of motion and both stretch and contract the abs on every rep.
Twist crunches: Twist crunches can work your core strength. However, start doing this when you become habitual with the normal crunches.
Stomach vacuum: Thus technique or exercise is quite a low-impact one, and at the same time it actually places greater emphasis on your breath rather than increasing your heart rate. It is quite an excellent technique or exercise for losing belly fat.
Lunge twist: Lunge twisters are also a great lower body fat reduction exercise and strengthen your core. You can also use this as a warm-up exercise in order to get blood flow to several muscles at one time.
Why Choose Us In Your Fat Loss Journey
At our Centre, we offer the latest non-invasive technology and services that give real and immediate results. Each client is looked after with special attention and she customizes treatments based on their individual needs and concerns for that whole package experience. Our team of experts have helped hundreds of customers with non-invasive treatments and holistic weight loss program. If you are looking for a comprehensive cosmetic and wellness centre which understands your needs, get in touch with us to learn more about our products and services or make an appointment.
Conclusion
Losing weight is not just a completely personal decision, but also a difficult one. The non-invasive fat reduction treatment discussed above requires diet and lifestyle changes for the best results. The procedures listed above can help boost self-confidence, especially when combined with weight loss achieved through a healthful diet and exercise. So, if you are deciding on the treatment, you should always consult your doctor before making any significant weight reduction decisions to make sure they'll work well for you. We know that everyone is different, and your weight-loss treatment may look different from someone else's.
Be patient and commit completely. Remember that your health, not your weight, is what matters most.