Best Laser Hair Removal Cost In Dwarka, Delhi
We provide complete body laser hair removal services at an affordable cost in Dwarka, Delhi. Advanced technology and skilled skin experts ensure that laser hair removal is painless and permanent. With years of experience in the industry, we ensure that you obtain the best results and are free of undesirable body hair.Unwanted hairs are an impediment to a powerful persona. A person having hair in various places of the body loses good appearance, a terrific personality, and the perfect attire.
People use many methods to remove hairs, including waxing, shaving, and tweezing, but these methods do not provide long-term results.If you want to get rid of unsightly body hair permanently, laser hair removal treatment is the best option. It will reduce hair thickness, density, and renewal, making them almost undetectable. We provide a cost-effective full-body laser hair removal service in Delhi.
Types Of Laser Hair Removal In Dwarka
Facial laser hair removal:
One of the most troublesome types of body hair are facial hair. It could be apparent and humiliating, particularly if you are a woman. Unwanted facial hair grows on the chin, upper lip, and cheeks in women. Men may be bothered by their unwanted facial hair and dissatisfied with their brows and beard. Laser hair removal might quickly and efficiently remove this hair.
Nostril Hair Removal:
Excessive nose hair can also be eliminated with laser hair removal treatment; however, many practitioners are unlikely to do the procedure.
Forehead Laser Hair Removal:
Lasers can be used to reduce unwanted hair growth on the forehead in women/men. The delicate baby hair around the hairline may bother some people but these can also be removed.
Male Facial Hair Removal:
Many guys are dissatisfied with their beard and brows hair development. Laser hair removal can help tidy up a beard and provide a more defined line between the upper cheek and the beginning of the beard. Due to the fact that most men, especially Asian men, have thick, dark beards, laser hair removal may be very effective.
Advantages of Laser Hair Removal over other Hair Removal Methods:
When used on the face, other hair removal treatments such as waxing and electrolysis can be highly painful and uncomfortable. In terms of pain, laser hair removal is much more tolerable. Furthermore, laser hair removal prevents folliculitis (inflammation of the hair follicle) and hair irritation.
What Is

Full Body Laser Hair Removal In Dwarka, Delhi
Full body laser hair removal is a painless and long-lasting procedure for removing hair from various regions of the body. It aids in the creation of hair-free skin that is smooth, velvety, and perfect.
The treatment involves shining high-intensity light into the affected areas' hair follicles. When light strikes the skin, it is converted to heat, which destroys the hair follicles. The technique is completely safe and is carried out under the guidance of a highly skilled skin specialist.
The hair growth in the areas exposed to the laser beam is significantly reduced. Most of the time, affected areas stop generating new hair, resulting in clear skin.
Advantages of Laser Hair Removal
Alternative methods of hair removal, such as waxing, tweezing, and shaving, are not only painful but also short-term. To maintain your appearance, you may need to repeat them every 15-20 days. Laser hair removal, on the other hand, has a number of advantages.
Among them are:
It helps to reduce hair growth permanently.
The growth of new hairs may come to a halt.
It provides a permanent solution to uncomfortable hair removal methods.
The entire treatment is painless, quick, and safe.
The method is extremely cost-effective.
Aside from that, laser hair removal is a treatment that both men and women can benefit from. You can also remove undesirable body hair from any region of your body, including your arms, legs, face, and underarms. If your wedding is approaching or you are tired of coming to the salon for waxing and tweezing, full body laser hair removal is the solution for you.In Delhi, we offer the most affordable full-body laser hair removal at very competitive rates.
We have the greatest dermatologists on staff who look for the needs of patients and treat them appropriately. Before administering treatment, the dermatologist examines both the skin and hair types. Furthermore, we provide the greatest full-body hair removal package so that the operation is cost-effective for you.Patients who have had our laser hair removal procedure have said it is the best they have ever had. So, if you're looking for the top hair removal doctors in Delhi and the surrounding areas, go no further.
Are there any risks or side effects?
Laser hair removal seldom causes serious negative effects. Here are some of the most common ones:
swelling
redness
discomfort and skin irritation
They typically disappear after a few days of treatment. In very rare cases only you will need to visit a doctor if the symptoms persist.
Rare side effects include:
scars
burns
blisters
infections
permanent changes in skin color
By carefully selecting a qualified medical professional, these dangers can be greatly decreased. The American Academy of Dermatology recommends that laser hair removal be performed by a board-certified dermatologist to avoid the risk of complications.
Types of Hair Removal Machines

We have a laser equipment in our arsenal that can remove various sorts of hairs depending on their thickness, density, and skin type. These are they: ● Hair removal using IPL (Intense Pulse Light) ● Laser Hair Removal using Alexandrite ● Laser Hair Removal with Nd: YAG ● Hair removal using a diode laser We have super hair removal technology and inbuilt sapphire tip cooling in the laser, in addition to different wavelengths, to get the best results.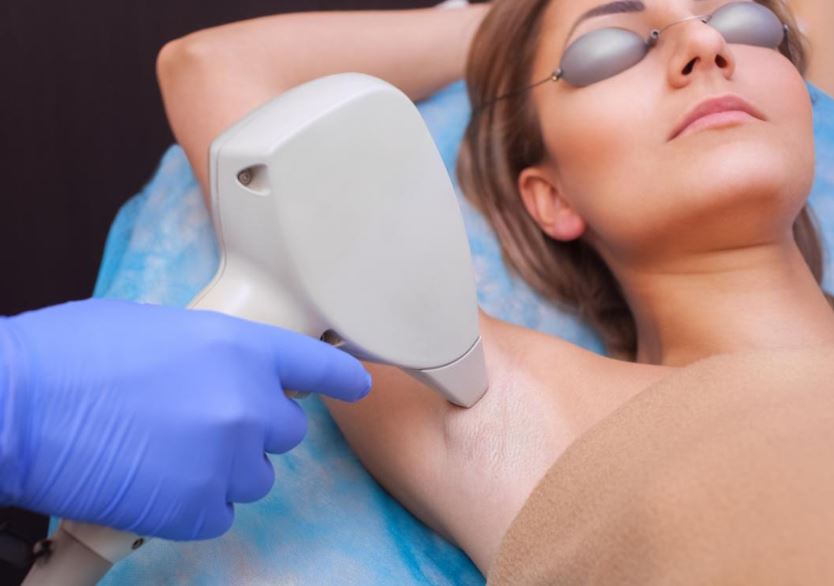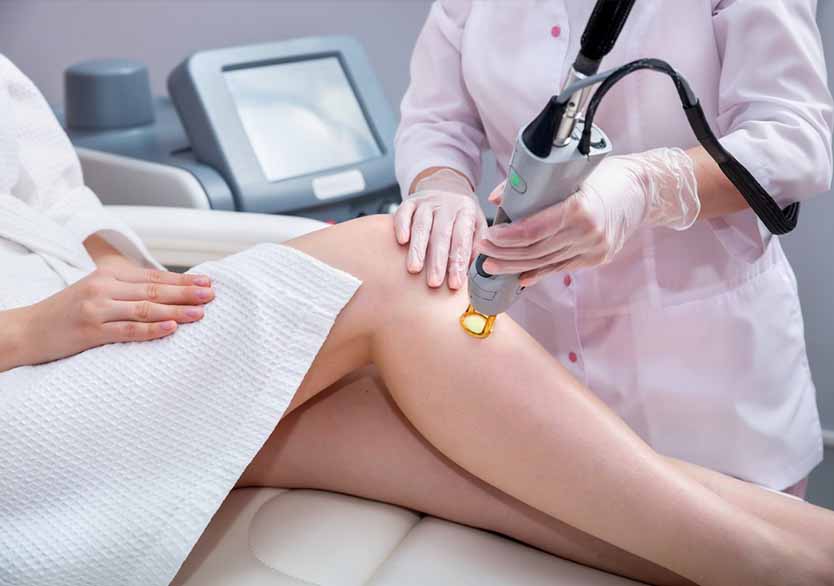 Each of these machines has the same basic operation. The targeted hair follicles absorb a certain wavelength that has no effect on the neighbouring follicles. The laser beam is only directed at the designated location.
How does laser work?
Let's dissect it and get back to the basics. As a result, the melanin in your hair follicle absorbs the laser light, which causes it to heat up. The roots are destroyed by this laser. Don't worry, the skin around you will be OK. There will also be no ingrowths. Those irritating little things. All gone.
As a result, you get enough of this silky smooth skin.
Allow yourself the luxury of wearing your favourite sleeveless dresses anytime you wish.
Technology
We employ cutting-edge laser technology to eliminate unwanted hair. Our quadruple wavelength laser technology combines four wavelengths.Our innovative quadruple wavelength laser removes all types of hair – fine, medium, and thick hair – more effectively than older diode and triple wavelength lasers. It's also suitable for all skin types.
The laser also contains ice-cool technology, which prevents the skin from being hot. Talk about a relaxing and pain-free experience!So relax and wave goodbye to that unwanted hair.
Frequently Asked Questions- FAQ's
Is laser hair removal a long-term solution?
Hair removal with lasers is a safe and FDA-approved procedure at our facility. The laser's safety profile is closely related to the laser's quality and, of course, the experience of the person doing the process. At our clinic, we cater to each of these factors. In fact, many of our patients who relocate to another country can continue their therapy there. This is because the technology is well-known around the world and is available at all major dermatological clinics.
How does laser hair removal work?
The hair follicles are targeted with a highly focused beam of light. The pigment (melanin) absorbs the laser energy, raising the temperature of the pigment. Because of the heat, the follicle is destroyed, and future hair development is halted. Simply put, the heat absorbed by the hair follicles from the beam hinders hair renewal. The hair removal procedure is both safe and effective.
Is it possible to use laser on every region of the body?
When performed by a skilled medical expert, laser hair removal procedures on any part of the body are considered safe. Legs, arms, underarms, upper lip, and bikini area can all benefit from laser treatments. Bikini area laser treatments have seen a major increase in popularity in cosmopolitan places like Delhi during the last five years.
Is laser hair removal suitable for all types of hair?
The laser is focused on the dark pigment (melanin) found within the hair. Because there is an excess of melanin in thick, coarse dark hairs, it works best. This is because thick, densely pigmented hair absorbs the laser's energy quickly, causing them to heat up and making therapy incredibly effective.
Is laser hair removal uncomfortable?
The technique isn't painful, but it does sting a little, and thanks to improved technology, laser hair removal has become not only painless but also soothing. During the laser hair removal operation, you will experience a warm sensation rather than pain. Waxing or shaving are far less comfortable than laser hair removal.
How much does laser hair removal cost in Delhi?
The cost of 6-8 sessions of laser hair removal at our Delhi skin clinic is far less than the cost of waxing or shaving on a monthly basis. It is a one-time expenditure. The cost of laser hair removal is determined by several factors, including:
The size of the treatment area and the time it will take
Required number of treatments
You can speak with us to get a better estimate of how much your case will cost.
How many sessions are required for optimal results?
Only hair follicles in active growth phase are targeted by laser. So, to see a significant reduction in hair regeneration, we normally need 6-8 treatments to cover all the hair follicles in each location. It's critical to realise that results vary from person to person, as they are influenced by hair type, hormone changes, and stress levels. As a result, the number of sessions required varies from individual to individual.
How long does laser hair removal take to recover from?
You should expect slight redness on the treaded area of your skin after the treatment, which will fade in a few minutes. Following the treatment, you can immediately resume your normal activities. After the treatment, we recommend that you apply sunscreen to any exposed areas.