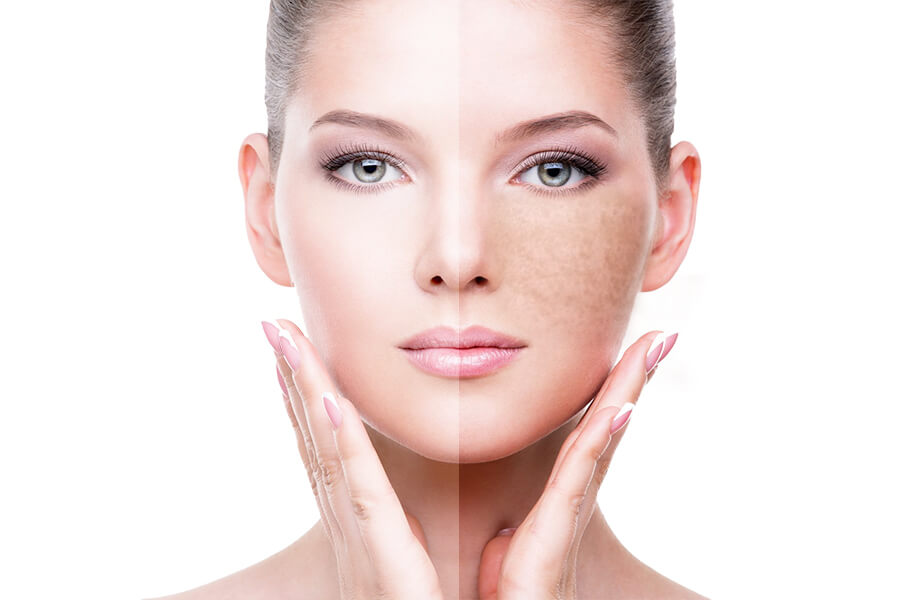 Hyperpigmentation is a medical term used to describe darker patches of skin. These patches result from excess melanin production, which can be caused by everything from acne scars and sun damage to hormone fluctuations. If you're dealing with hyperpigmentation, know that you aren't alone. Hyperpigmentation is a common skin condition, and there are a number of different treatment options available.
Types of hyperpigmentation include age spots, melasma, and post-inflammatory hyperpigmentation. Hyperpigmentation is a harmless skin condition that people can get rid of using removal techniques such as cosmetic treatments, creams, and home remedies. In this case, turning to dermatological procedures will work as the fastest way to get rid of hyperpigmentation. Chemical peels, laser therapy, microdermabrasion, or dermabrasion are all options that work similarly to rid skin of hyperpigmentation.
Laser pigmentation removal works by eliminating pigment in the surface of the skin through the body's lymphatic system. Your pigmentation may darken, lighten, fade or even appear to have no change immediately post treatment. On average, it takes 4-6 weeks for your body to process the pigment. People usually prefer undergoing laser treatment for pigmentation because it's a permanent solution and a quick, gentle, and non-invasive treatment.
The wavelengths of light produced by laser technology are designed to be absorbed by these pigmented areas causing the spots to gradually disappear. The treatment is quick and not usually painful however, any discomfort experienced can be eased with an ice pack. The laser heats up and shatters the pigment. The pigment is then drawn to the surface without harming the surrounding tissue. Once drawn to the surface, the pigmented lesions will fade or dry and flake off the treated area, leaving the skin with an even tone and complexion. Pico laser ultra-short pulses enable to effectively shatters pigment particles without overheating surrounding skin tissues. It is known to clear pigmentation 3 times faster than q-switch laser and suitable for all skin tone.
Pigmented lesions that have been removed will not return after your laser treatments. However, various factors such as aging, changes in hormone levels or UV exposure can stimulate new hyperpigmentation.
Laser for pigmentation will require more than one treatment to achieve the desired results. We recommend a minimum of three treatments however this should be discussed with your technician prior to purchase.
A chemical peel uses acids at stronger concentrations to treat the desired area of skin. They reduce the appearance of hyperpigmentation by removing the epidermis. Deeper versions may also penetrate the middle layer of your skin (dermis) to produce more dramatic results. Although many chemical peels are available OTC, you might consider getting a professional-grade peel at your dermatologist's office. These are more powerful, and they yield quicker results. If you're out in the sun on a regular basis, chemical peels may not be the best treatment option for you. Chemical peels cause your skin to be more sensitive to the sun's rays. If you don't adequately apply sunscreen and use other UV protection, the sun may worsen your hyperpigmentation. You'll need to take extra precautions for at least one week after your last chemical peel.
A laser peel (resurfacing) treatment uses targeted beams of light to reduce hyperpigmentation. There are two types of lasers: ablative and non-ablative. Ablative lasers are the most intense, and they involve removing layers of your skin. Non-ablative procedures, on the other hand, target the dermis to promote collagen growth and tightening effects. Ablative lasers are stronger, but they may cause more side effects. Both destroy elements in your skin to ensure that new skin cells grow back tighter and more toned.