I have lost 7.5 kg and 9.5 inches (over-all ) from my tummy, with in 28 visits to the clinic

Carvers is by far the most knowledgeable & professional slimming clinic I have attended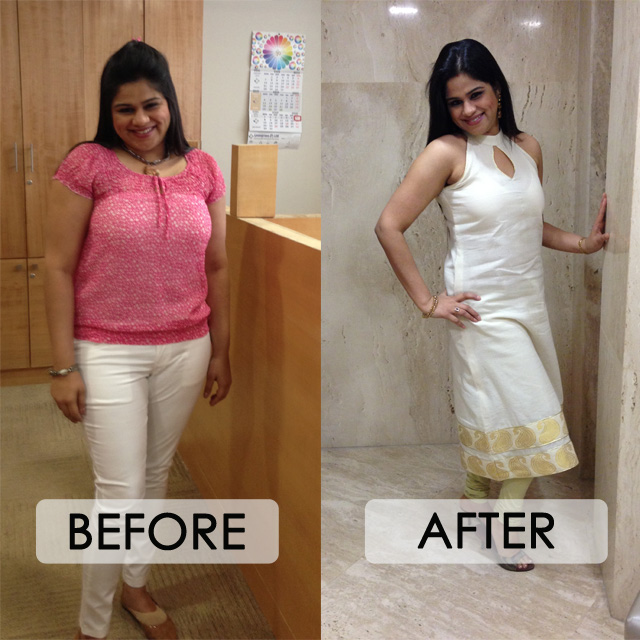 Prerna Daga, Dwarka Sector 2, Delhi.
Went to Dr. Rekha Singh at Carvers for ultrasound cavitation and RF sessions along with inch loss . Initially I was very skeptical about the treatment, and didn't really believe it would work. I was so wrong! Carvers is by far the most knowledgeable & professional slimming clinic I have attended. The experience and knowledge was exceptional, and the treatment was delivered with the utmost care and respect. I was honestly blown away by the results after just one treatment! I lost 2 inches from my waist in the first sitting of ultrasound cavitation and  RF and couldn't be happier! After each session of Ultrasound + RF, she used other modalities and machines as well, which I believe boosted the results of the treatments too. What is most important is that Dr. Rekha herself supervises the treatments and she very patiently answers all queries and makes everything very clear. She really makes you feel relaxed and comfortable and answers all your questions, whatever they may be. Infact she gives advice for following up diets at home as well. I followed her aftercare advice too (exercise within 12 hours of each treatment, maintain low calorie diet, low carbs, less fatty food, avoid alcohol, drink plenty of water etc) and this really helped me to see results. To sum up I will say that the clinic has a thoroughly professional approach to treatment, cost effective packages and hygienic atmosphere and equipment; the staff is friendly and trustworthy too. I feel comfortable with Dr. Rekha and she is flexible with her availability which makes it easy to work around a busy office schedule too. Thank you Carvers for helping to improve my life, as I have made a positive step toward a better body with Dr. Rekha Singh's help. I am still continuing with my sessions and hope to see even better results !

I have lost 7.5 kg and 9.5 inches (over-all ) from my tummy, with in 28 visits to the clinic
SR Mandal, Sector 4, Dwarka
This is SR Mandal from Dwarka, Joined carvers for Weight loss and inch loss and got desired results.
It is an excellent service by carvers, I have lost 7.5 kg and 9.5 inches (over-all ) from my tummy , with in 28 visits to the clinic.
Staff gives sincere services . They wear a smile on their face and never look tired . Overall administration is very a methodical, they never kept me waiting. Best of luck to the team of CARVERS .