What are the Body Parts Involved in Laser Hair Removal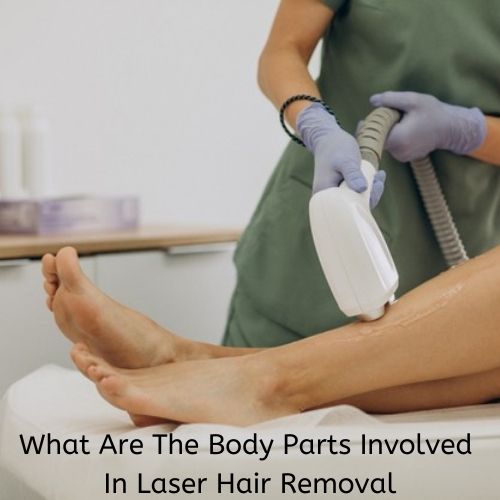 What are the Body Parts Involved in Laser Hair Removal
In the article given below we'll talk about an important topic that's "What are the Body Parts Involved in Laser Hair Removal?" let's discuss it in detail:
Everyone has a question in their mind. Which parts of the body can we actually cover with laser hair removal procedure? It is not that it's not just the hands and legs or the other parts, today we'll solve all such misconceptions in our article. Have you ever thought that you simply can remove unwanted hair from all specific parts of the body? If you have done the tedious work of repeatedly shaving and waxing repeatedly along with your razor, you'll be able to now save money and time. Imagine an effective hair removal remedy that eliminates the necessity to shave daily or waxing weekly.
Laser technology can be the perfect solution for hair removal! Laser hair removal procedure is one among the most prevalent and latest cosmetic procedures in India for hair removal, because of its safety and long lasting effective results, especially when performed by qualified surgeons.
Laser Treatment in Every Area is Different
Remember that the treatment areas covering larger surface areas will take longer to treat than smaller parts of the body. For example, areas like the upper lip can be treated in just a matter of minutes, compared to hair removal from your back, which may actually consume an hour with repeated sessions.
Apart from the body parts, variables like the hair thickness, hair type, hair color as well as skin color influence the no. of sessions and the duration of each session.
Laser hair removal treatment works best on people with dark hair as well as fair skin since the laser targets the melanin pigment in the hair. Light-haired and Dark-skinned individuals need additional treatment sessions comparatively.
What are the Parts of the Body that are Not Covered Under Laser Hair Removal?
The answer to this particular question is laser hair removal treatment can actually be performed on any body part wherever hair grows. Still, there's a restriction about the target area. The cosmetic surgeons cannot perform laser hair removal procedures on the eyebrow part because of the high risk of ocular (eye) injury. It is actually illegal to perform a laser treatment within one inch of the eye socket.
What are the Body Areas that are Commonly Covered Under Laser Hair Removal?
Below is the list of the body parts where both men and women can undergo a laser hair removal procedure. Following is a breakdown of what to expect from laser hair removal on various parts of the body.
Abdomen: People have excess hair in the area around their abdomen, especially people who have PCOS (Polycystic Ovarian Syndrome) condition. You can undergo laser hair removal treatment that gives a prolonged reduction in hair growth.
Knuckles and Feet: Individuals around the age of puberty have hair growth on the toes, knuckles as well as feet. Later, these hairs may grow even more thicker, and thus become more visible. This is where you'll be able to choose a laser hair removal procedure for a long-term result.
Back: Laser hair removal treatments on the back is actually a common procedure among the males with repeated sessions.
Breasts: When women undergo hormonal changes, it may further lead to hair growth both on the breast and areola regions. Plucking may work given that there are one or two hair strands. Still, it will regrow. In that case, you'll be able to choose a laser procedure that has lasting reduction.
Chest: Increased hair growth in the chest region among the males is actually really common because of its large surface area. It is time-consuming to choose temporary hair removal methods, especially for chest region. Hence, men can select chest laser hair removal that gives a long-lasting reduction over tweezing, shaving, and waxing.
Buttocks: You may actually feel weird and uncomfortable to undergo laser hair removal on the buttocks area. Still, this laser therapy is the one-stop solution which will offer a long-lasting reduction in hair growth.
Bikini Area: Hair removal in the bikini area is kind of common among women. Shaving such delicate areas ends up in burns and ingrown hairs. Waxing will cause more pain since it's a sensitive body part. Bikini Area Laser hair removal procedure takes only 20 minutes per session to attain long-lasting results. Moreover, you can plan for around five sessions, about a month apart.
Legs: The legs are actually supposed to be the most famous treatment areas for hair removal. You must be fed up of trying all the temporary methods in order to get rid of hair in legs. Here comes the perfect solution named laser hair removal procedure that yields the best results within 3 sessions, since the leg hairs are darker and thicker. It takes only about 30 minutes to complete lower legs, and a minimum of only 1 hour to complete full legs. It may actually extend up to 12 sessions for full hair removal.
Underarms: Another common treatment area is the underarms, where hair growth is much higher and thicker. It may actually be quite embarrassing to wear sleeveless clothes when there are dark hairs on your arms. Repeated shaving results in darkening, burns, and ingrown hairs. Laser hair removal is relatively safe and effective for underarm hair reduction. It can take 3-4 sessions to attain permanent hair reduction in the underarm region.
Face: Hairs within the growth phase respond quickly to laser treatment. Furthermore, facial hair belongs to the resting phase of the growth cycle. It is lighter as well as thinner as compared to other areas. Hence, facial laser hair removal involves more frequent sessions and consumes longer to show effects. It takes about 15 minutes per session, where around 3 – 5 treatments over 3 – 4 weeks can yield the most effective results. Laser hair removal treatment also helps to actually reduce razor burns and ingrown hairs that occur on the face and neck because of repeated shaving.