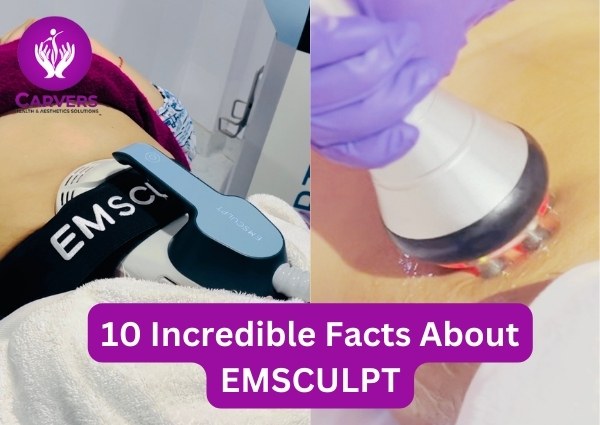 10 Incredible Facts About EMSCULPT: Transforming Bodies And Lives Carvers
If you've been on a quest for a revolutionary non-invasive body sculpting treatment that delivers exceptional results, look no further than EMSCULPT. This ground-breaking technology has been transforming bodies and lives across the globe, and it might just be the solution you've been searching for. In this blog post, we'll unveil 10 incredible facts about EMSCULPT that showcase its effectiveness, versatility, and impact on the world of aesthetics.
EMSCULPT Goes Beyond Traditional Treatments
EMSCULPT is not your typical body sculpting treatment. While many procedures focus solely on fat reduction or muscle building, EMSCULPT takes a holistic approach by addressing both aspects simultaneously. It can help you build muscle and reduce fat in targeted areas, delivering comprehensive body transformations.
The Science Of High-Intensity Focused Electromagnetic (HIFEM) Technology
At the core of EMSCULPT's effectiveness is its high-intensity focused electromagnetic (HIFEM) technology. This revolutionary innovation induces powerful muscle contractions that go beyond what's achievable through regular exercise. These contractions stimulate muscle growth, resulting in enhanced muscle tone and definition.
EMSCULPT Targets Key Muscle Groups
Whether you're looking to tone your abs, sculpt your buttocks, define your arms, or firm your thighs, EMSCULPT can be customized to target various muscle groups. This versatility allows you to address specific areas of concern and achieve your desired body goals.
EMSCULPT Is Non-Invasive And Pain-Free
Unlike surgical procedures, EMSCULPT is entirely non-invasive and pain-free. There are no incisions, needles, or anaesthesia involved. You can lay back, relax, and let the technology work its magic.
Quick And Convenient Treatment Sessions
EMSCULPT treatment sessions are relatively short, typically lasting around 30 minutes. This means you can easily fit them into your busy schedule without disrupting your daily activities.
Results You Can See And Feel
One of the most exciting aspects of EMSCULPT is that you can both see and feel the results. Patients often report improved muscle definition and strength, leading to enhanced self-confidence and a renewed sense of vitality.
Scientifically Proven Efficacy
The effectiveness of EMSCULPT is backed by scientific studies and clinical trials. Research has shown that it can increase muscle mass and reduce fat in treated areas, offering measurable and consistent results.
Complementary To A Healthy Lifestyle
While EMSCULPT can produce remarkable results on its own, it complements a healthy lifestyle beautifully. Combining regular exercise and a balanced diet with EMSCULPT treatments can further enhance and prolong the benefits.
Suitable For Various Body Types And Ages
EMSCULPT is suitable for a wide range of individuals, regardless of age or body type. Whether you're an athlete looking to enhance your performance or someone seeking to kickstart your fitness journey, EMSCULPT can be tailored to your needs.
Minimal To No Downtime
After an EMSCULPT session, there's little to no downtime required. You can resume your daily activities immediately, making it a convenient option for those with busy lives.
Experience EMSCULPT At Carvers
At Carvers, we're proud to offer EMSCULPT treatments that have been changing lives and bodies. Our expert team is dedicated to helping you achieve your body goals safely and effectively.
If you're ready to experience the incredible benefits of EMSCULPT for yourself, we invite you to schedule a consultation with us. Together, we can create a personalized treatment plan to help you unlock the potential of your body.